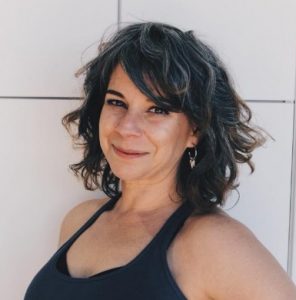 I'm Holly. Yoga instructor, rockstar, and a badass in general. Just kidding. Full time mom to my pug, Loki.
I first sought out yoga to help with severe anxiety and depression. At that point, I was the worst possible version of myself. Yoga helped. I learned how to breathe and to focus. But, all I did was cry in class. Every. Damn. Time. I couldn't understand how yoga was making my emotional health worse. What I came to realize was that Yoga wasn't making me cry. Yoga was teaching me how to not be numb, and I started to feel everything that I had buried way down deep. Shit.
Then I found Forrest Yoga. The first class I went to was the first time I actually felt like I 'belonged' in a class. Forrest Yoga forced me to deal with ALL of my bullshit. It made me feel strong. I had never felt strong before. In all reality, I had never really felt anything before.
I did my Forrest Foundation Yoga Teacher Training in May of 2014, in New Haven CT with Ana Forrest. I was never the same after that. I had a responsibility to hold space for those looking to heal. I had a responsibility to share my story. To both bring myself out of isolation and to offer space for others to do the same. To create a safe, strong, healing community.
I completed my Advanced Forrest Training with Ana in 2016 in Oakland, CA. At that point, I was a retail store manager (what I had done my entire adult life), and teaching part time. I came home from training and quit my job. Got a divorce too. I blew up my entire life. And started a new life that I was passionate about: teaching full time.
My purpose and mission is to offer sacred space for everyBODY. Everyone. Regardless of background, ability, race, gender, sexual orientation, size, addictions, age, etc. We are all sacred, and we all deserve a place to heal, move, breathe, and play with edges and comfort zones. Practicing with me is challenging. I'm kinda intense; but, I will help realize your strength. I will support your personal journey. I will help your towards a loving relationship with your body. And I will challenge you.
I hate Kombucha. Seriously. I'm tired of the yoga stereotypes.
Studio Calendar