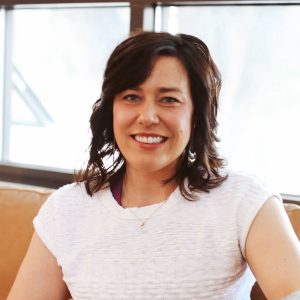 Julie first discovered yoga a child, when her grandmother would teach her pranayama to steady her breath, and they would practice asana together following along with a show on PBS.  Later, Julie would re-discover yoga, which led her to a deeper understanding of yoga's power to guide us in remembering that we are whole and complete, just as we are.
Julie has been sharing yoga since 2012, when she completed her 200-hour certification with Siva Power Yoga in Kansas.  Recently, she began training to be a Yoga Therapist, completing the 300-hour foundation course with Inner Peace Yoga Therapy in 2018.  She is currently mentoring under the guidance of teacher Jessica Patterson.  Her studies with Jessica and Inner Peace have broadened her therapeutic background, deepening her knowledge of each person's inherent ability to heal with yoga practice as a companion.  
Along with the direct experiences of her own yoga practice and trainings, Julie weaves into her offering her experience as a Physical Therapist Assistant and her education with a B.A. in Exercise Science.  She began her career as a PTA in 2007, and quickly realized that healing calls for an integrated, multi-dimensional approach; one that allows us to see eachother as whole no matter what challenge we are taking on.
Studio Calendar