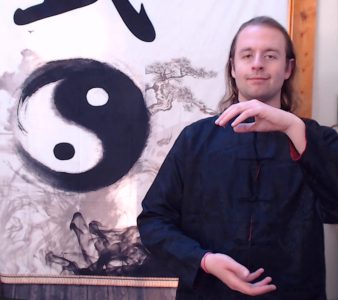 Ever since he was a little kid, Kris had a love of Kung Fu movies and wanted to be like those monks and wise masters on the screen. Kris's journey began in his home town of Woodland Park, CO where he was struggling with anxiety from a troubled home life, and wanted to find something to make him feel grounded and secure with his mind and body. After searching some of the local martial arts schools, he found Sifu David Simeone, a Kung Fu master with 40 years of experience in Kung Fu, Baguazhang, and Tai Chi Chuan.
Since Kris met his Sifu, he studied under his teachings for 10 years. Dedicating his mind and body to learning martial arts, Kris had climbed his way to a 3rd Degree Black Sash, and received his Instructor's Certificate, so that he may pass down his teachings to others. He has instructed many classes and many age groups, ranging from children's Kung Fu, to Chair Tai Chi with Senior Living Facilities like Viewpointe and Liberty Heights.
Kris's love and focus has primarily been on the Internal Systems, such as Tai Chi, Baguazhang, and Taiji Plumblossom Mantis. He found that the softer approach and focus on the intention of mind, body, and spirit have helped him calm his own mind and give him that deep root he craved during stressful points in his life. By using one's Yi (mind) to direct Qi through the body, one can use the body's systems to promote strength and flexibility, nurture and mend old and chronic injuries and illnesses, and to balance one's life and mind.
"Tai Chi, to me, has always subverted expectations. It's soft and slow movements hide amazing powers that only can be experienced by doing."
"The greatest moments to me is when a student comes up to me and says, 'Last week I was so stiff, I could barely move anything. But now, I feel wonderful!'"
Studio Calendar