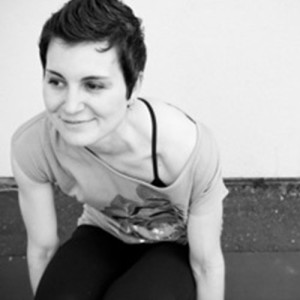 Amber loves food, Amber loves running, and Amber loves yoga. Of course there is other stuff/things/people Amber loves, but these three rank high on her list. Amber is not quite sure when or why she first came to her mat, but she does know she kept coming to it over and over again.
In the beginning, Amber practiced because she liked the way it made her feel physically. But after time, yoga began to find Amber 'off the mat.' It did not take her long to figure out her brain was also happier after she made funny shapes with her body on the mat.
Amber's personal practice is varied and impartial to any one style of yoga. She likes to practice flow, yin, anusara, and restorative. Amber also likes to practice inside, outside, at a studio with other yogis, and at home by herself.
While Amber draws upon all of her varied ways of practicing when she teaches, her classes generally consist of strong asanas with a balance of alignment and movement. But Amber never takes herself too seriously, and she likes to think her sense of humor comes across in her teaching, making her classes fun and accessible to everyone.
Having been born and raised in Colorado Springs, Amber considers the fact she is a true Colorado native to be the most unique tidbit about herself. She considers the fact that she grew up in, and still works at, her family-owned, Italian restaurant to be the second most unique tidbit about herself. Amber did mention she loves food, right?
Studio Calendar