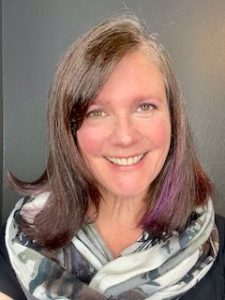 After many years of study in yoga, yoga therapy and the science of pain, Kristina (C-IAYT) joins the RootRx team working with those who experience persistent pain- specializing with those diagnosed with Failed Back Surgery Syndrome.
Kristina discovered yoga through a Special Needs Yoga class to aid in her recovery from a spinal fusion in 2007.  It was a painfully arduous rehabilitative experience and she felt she had run out of options from Western medicine.
Encouraged to teach yoga by her classmates after their beloved teacher passed away, she dipped her toes into learning more about yoga through a 50 hour Kripalu Yoga mentorship with Teryl Lundquist at Yoga Journeys.
She quickly realized she wanted to offer others the kind of hope she received through the practice of yoga- hope that there was a path away from pain and the belief that we are whole, nothing missing, just as we are!
Kristina began studying yoga and pain in 2016, graduated from RootEd in 2017, completed a 300-hour Pain mentorship with Neil Pearson in 2018, became a certified Advanced Pain Care yoga teacher in 2019, graduated from Inner Peace Yoga Therapy and became a Certified Yoga Therapist (C-IAYT) in Jan of 2022. She is also a Pain Care Aware trainer leading trainings and workshops for yoga teachers and therapists, and healthcare professionals.
Learning about the science of Pain and the application of yogic practices to those concepts was what brought her own healing full circle.  She combines evidence based science, her own lived experience with pain and her "first aid kit" of therapeutic yoga practices to facilitate everyone's own paths of healing.
Kristina currently sees yoga therapy clients in person and on-line, teaches Pain Care group yoga therapy classes, leads Pain Care Aware workshops, and public Pain Science Education seminars.  Additionally, Kristina facilitates a monthly support group through the US Pain Foundation for people in Colorado living with chronic pain. Painconnection.org
Are you wondering…What is Yoga Therapy?
"Although all yoga is potentially therapeutic and healing, yoga therapy is the specific application of yogic tools-postures/exercises, breathwork, meditation techniques, and more-to address an individual's physical, mental, and emotional needs. Many people first learn about yoga through its physical practices, but a common misconception is that the discipline is all about stretching or movement.  In fact, yoga therapy can help people who can't move at all, as well as active individuals! The yogic model of health is unique because it addresses every aspect of life rather than considering each body part or system separately."
Studio Calendar