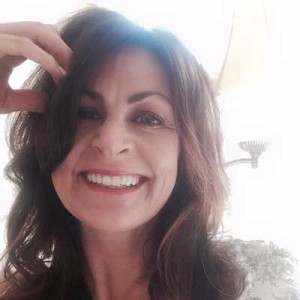 Jessica Patterson has been practicing and discovering yoga since 1993, during which time she has had the great privilege of exploring many methods, approaches and teachers. Her formal training as a teacher began with a 200-hour program in Colorado Springs. As her own yoga practice deepened, so too did her understanding of its profound transformative and regenerative power. She sought out more and more opportunities to learn and grow as both practitioner and teacher, pursuing training with diverse teachers across lineage and tradition.
Her dedication and commitment to nonviolence and an ecology-centered ethos led her to advance her training as the only Certified Jivamukti Teacher in Colorado Springs and a 500-hour E-RYT with Yoga Alliance. While her Jivamukti roots run deep, Jessica has also broadened and deepened her education and counts Mark Whitwell among her most formative teachers. Under Mark's gentle guidance, Jessica has reconnected with (and remembered) the heart of yoga as "the direct participation with life — as life itself." She teaches yoga as a technology/practice that facilitates the re-cognition (and embodiment) of oneSelf as divine expression — whole and complete, missing nothing.
Ever the student, Jessica returned to New York City in 2012 to join one of her first yoga teachers and mentors, Alanna Kaivalya, for the inaugural 200-hour training of the Kaivalya Yoga Method. Most recently, Jessica completed her certification as a Yoga Therapist through the Inner Peace Yoga Therapy program in 2013, and has co-facilitated the Austin and Asheville programs as contributing faculty. Her work as a Yoga Therapist complements and expands what she is able to offer individuals and groups. Jessica continues joyfully to delve deeper into her own practice through annual immersions and master classes, Yoga Sutra, Sanskrit studies, and to workshops with beloved and inspiring teachers across many, many wisdom traditions.
As founder and director of the 6-month, 200+ hour RootEd Apprenticeship & Teacher Training Program, Jessica leads small intimate groups of students more deeply into the embodied experience of yoga. In 2014, she opened Root: Center for Yoga and Sacred Studies, a Colorado Springs-based sanctuary for the community that has inspired her work all of these years. Root is a home for her public classes, workshops, mentoring program, as well as the Sadhaka Sessions (intensive learning modules for those who seek deeper study outside of "teacher" trainings). Whether working with individuals one-on-one through Off the Mat/Sadhana Guidance or Mentoring programs, teaching public classes, or immersing in more intensive offerings, Jessica is committed to sharing Yoga as an empowering technology relevant to our modern lives. Making it "real" is what it's all about. Most recently, Jessica has created the year-long UN-training program, in which participants from all over the country explore yoga as a practical and effective means for embodying social and environmental justice. You can read more about this program HERE.
Jessica is dedicated to the intensive spirit of workshops and retreats throughout Colorado and other locales (including Yelapa, Mexico, Hawaii's Big Island, and most recently Iceland), specializing in the revision of inner myths, the elements of being, and rites of passage. She has served as a faculty member/guest teacher for various teacher-training and yoga therapy programs, including Yoga Durango and Inner Peace Yoga Therapy. She has taught nationally and internationally, and is currently designing immersion projects that emphasize inner pilgrimage.
With an M.A. in English and as a graduate of the renowned Institute for Integrative Nutrition and the Nutrition Therapy Institute, Jessica weaves together her diverse passions as a teacher, writer, nutrition therapist, and integrative consultant to emphasize integration and wholeness in all she does. Her forthcoming book is a grounded and personal exploration of how yogic teachings can help ordinary, everyday people navigate life's ups and downs (from divorces and deaths to financial uncertainty and health diagnoses). The book comes directly from her own experience as a student and teacher of yoga.
Jessica believes that the ultimate purpose of yoga is to remember and embody who and what we really are and to recognize that as whole and holy. The goal of her teaching is to help students free themselves from limiting thoughts and ideas. And that is the sole focus of her classes and the new Root Center for Yoga & Sacred Studies. Jessica's dedication to and respect for all these practices have enabled her to infuse her teaching with deeply spiritual, physically rigorous, and truly uplifting classes that seek to liberate and bring joy to each student.
Learn more about Jessica on Patreon →
Studio Calendar