Dancing Your Depths
Fri., December 15 @ 7:00 pm

-

8:15 pm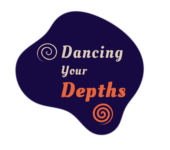 Dancing Your Depths
Intentional movement for inquisitive souls.
Sink deep into self-expression and creative expansion . . .
Supported by a curated menu of music of all genres and lightly guided with somatic cues and imagery, those who step into this space will have permission to explore their depths through an embodied practice of listening, delving, immersing, emerging, and integrating. No dancing experience is necessary to participate—only an open mind and curiosity about what moves
you.
This is a free-form movement practice with no steps or choreography but is scaffolded by a loose framework that serves as a container for our explorations. We dance in bare feet or light non-street shoes. Ages 18+.
Dates for Dancing Your Depths at Root Yoga Center:
Friday, December 15, 7:00-8:15 p.m.
Please arrive 5–10 minutes early; we start on time!
Cost is $15 per person; pay in person with cash or Venmo.
Visit DancingYourDepths.com for more information.
Please email DancingYourDepths@gmail.com to ask any questions or if you need accommodations for accessing the upper level of the building.